December 31, 2014
Creating A Culture of Activity Blog
In This Post:

2014 Active Towns Initiative
ReportWhat's In Store In 2015 
The 2014 Report
This past year was indeed a busy one for the Active Towns Initiative and the continuation of the Active Towns Tour. We've visited 23 states and well over 100 cities thus far.
NYC
We launched into the new year by getting into the polar vortex spirit with a trip to New York City in January. Even in bitter cold weather we found ourselves walking for hours on end as we explored Manhattan and Brooklyn.
Being the urbanism geeks that we are, we loved viewing many of the wonderful places outlined in Victor Dover and John Massengale's beautiful book, Street Design: The Secret to Great Cities and Towns.
I particularly love this photo above which was taken on the narrow streets of Brooklyn, the FDNY was out in force checking all the fire hydrants due to the temps hanging out in the 0 degrees Fahrenheit range.
MIAMI
What better way to thaw out from the polar plunge than to head down to Miami where I was fortunate enough to get a terrific tour of the area on a Sunday afternoon by Mr. Dover himself.
Loved this convertible street, Española Way; by day motor vehicle drivers are welcome to proceed through cautiously as it is a pedestrian priority zone and at night it becomes a car free space.
STUART, FL
After catching the northbound train to the West Palm Beach area, we were treated to a guided tour of the delightful village of Stuart, Florida by the Restless Urbanist, Edward Erfurt.
There's a lot of great stuff happening in this area, much of it due to Edward's dedication to create places that are safe and inviting.
FORT PIERCE, FL
Next up was a quick visit to Fort Pierce with my sister Theresa.
We had lunch at one of the local watering holes downtown which was hopping despite it being relatively quiet on the streets on this late January day.
MINNEAPOLIS &  BRAINERD, MN
In early February we made our way back into the teeth of the deep freeze by heading up to Minnesota to meet up with Chuck Marohn and Jim Kumon with Strong Towns. The purpose of this visit was to participate in a strategic planning session for the organization.

As can be plainly seen in this snapshot I took before my iPhone froze during a run on the pathway system in Minneapolis, the chilly, snowy weather did not disappoint. Loved that the path was plowed and I saw several other intrepid folks enjoying the crisp air and sunshine.
SAN FRANCISCO, CA
On February 8th it was then off to SF for a couple days of checking out the city by the bay.

Unfazed by the heavy rains, people were out in force living their active lifestyles.
DENVER, CO
By mid February we were back in Colorado for the Partners for Smart Growth Conference and delighted to be welcomed by some warmer, drier weather.

This is a great photo of the LoDo area illustrating how important it is to provide quality outdoor opportunities to move and linger when the sun comes out, even in the dead of winter.
LOS ANGELES, CA
On the 20th of February it was back to California, this time, LA for the ULI Building Healthy Places Conference.
After taking the metro subway right into downtown from LAX and then exploring my original hometown by biking and walking, I was impressed by how far the city has come. With many new restaurants, night spots, apartments and condos prompting a steady flow of millennials coming into the area the place is getting lively.
SAN DIEGO, CA
After some down time in Boulder and Hawaii, we were back on the road in early March for the Active Living Research Conference in San Diego.

Activity is just part of the rhythm in the Pacific and Mission Beach areas of San Diego.
SAN ANTONIO, TX
In May we finally took the Active Towns Tour into the state of Texas. I was invited to present along with Chuck Marohn of Strong Towns at a conference on Health and the Built Environment in San Antonio.
Chuck and I had the pleasure of meeting up with Erika Ragsdale, a super supporter of good urbanism in the Central Texas area. 
The famous San Antonio River Walk serves as a valuable recreational and utilitarian facility to visitors and locals.
AUSTIN, TX
After a brief stop in San Marcos so Chuck could deliver a Strong Towns Curbside Chat to a packed and enthusiastic crowd, I continued onto Austin for a long overdue visit with Preston Tyree.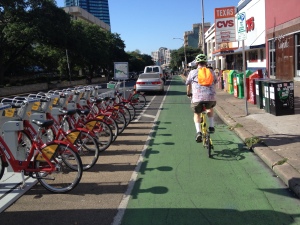 Although I did not know it at the time, it would prove to be a life changing visit to one of the most frequently mentioned Active Towns we have studied.
CITY OF ORANGE, CA
Mid May saw us return to Southern California once again, this time to profile the charming City of Orange. 
Harkening back to a bygone era, you simply can't get a more welcoming town square and it's in Orange County, California.
BUFFALO, NY
In early June we embarked on our annual pilgrimage to the Congress for New Urbanism (CNU22) this year being held in Buffalo.
I was honored and delighted to reconnect once again with Victor Dover for both a bike ride to Chautauqua and to cohost a couple of morning Street Design Runs as part of the CNU schedule.

Photo: Chautauqua, NY

Photo: CNU Street Design Morning Run, Buffalo, NY
PITTSBURGH, PA
After a couple months of travel downtime in Hawaii and then in Boulder we were back on the conference circuit, this time it was Pro Walk, Pro Bike, Pro Place by the Project for Public Spaces in early September. 
In this photo the city got into the Tactical Urbanism mood by installing a mock up for the week of the future protected bike lane on one of the bridges leading into downtown.

Clarence Eckerson of Streetfilms chatting with a PPS Place Making workshop participant on the streets of Pittsburgh.
MINNEAPOLIS, MN
On September 12 we returned to Minneapolis to help lead an Active Towns Bikeshop (a built environment workshop on bikes) as part of the inaugural Strong Towns National Gathering.

Photo: Active Towns "Bikeshop" pausing above the Midtown Greenway to discuss access to Activity Assets. 
Photos: We were delighted to have been treated to a Minneapolis Open Streets event.
BUENA VISTA, CO
On September 19th we hit the road to profile Buena Vista, CO and its South Main neighborhood.
Photo: The South Main "Beach" Park frequently features live music

Photo: Skinny streets are the norm in South Main.
VAIL, CO
In late September we returned to Vail Village, one of our favorite Active Towns.
Photo: Gore Creek Pathway

Photo: Vail Village shared space, some of the best we have seen.
KAILUA KONA, HI
Each year in October we make every effort to return to our roots to support the PATH Run and be part of the the Ironman Triathlon World Championships in Kona. It is so wonderful to watch athletes along with their family and friends from around the world experience this Emerging Active Town in all its glory.

Photo: Ali'i Drive as a non-motorized vehicle zone
AUSTIN, TX
In late October we returned to Austin and set up shop here. Yep, you read that right. The Active Towns Initiative, which is incorporated in Boulder now has an active office in Austin.
Photo: Pfluger Bridge linking South Austin to Downtown while providing critical connectivity for the Lady Bird Lake Butler Hike and Bike Path.
WHAT'S IN STORE IN 2015
We are exciting to be launching what we believe will become two powerful intervention tools in the coming year:
Activity Asset Mapping Tool for working with cities in becoming healthier places
MyActivityMap smart phone application, for end users to navigate a community's Activity Assets
Both are GIS based applications, which will help illustrate for cities where their Activity Assets are located and how well they serve their communities.
We have already created a beta version demo of Boulder, Colorado as a proof of concept and are actively looking to secure the innovation funding necessary to map 10 Active Towns target cities, starting with our new office location; Austin, TX. Please don't hesitate to contact us if you'd be interested in seeing a demonstration.
BE A PART OF THE MOVEMENT
As was mentioned above, we are looking to move the Initiative to the next stage and are raising funds to develop these new intervention tools ,as well as continue to profile new places as part of the Active Towns Tour.
Please consider making a tax deductible donation to either bring 2014 to a close or kick off 2015.
Click here to donate.
What Do You Think? We Encourage You Join In On The Conversation and Get Involved
Please feel free to share your comments and/or make suggestions for emerging and established Active Towns on our website,  Facebook page or by email to: info@activetowns.org
Also, let us know if you can help facilitate Tour Stop and site visit in your city.
Thank you for helping create and support Active Towns everywhere!
John D Simmerman, MS
Co-Founder, President & CEO
Advocates for Healthy Communities, Inc.
Actives Towns Initiative
www.activetowns.org