EPISODE 207, SEASON 6:
In this episode, I reconnect with
Tesho Akindele, former MLS pro soccer player turned walkable communities developer
We discuss his unlikely and unexpected journey from pro sports to urbanism and developing, walkable and bike-friendly communities in Charlotte, NC.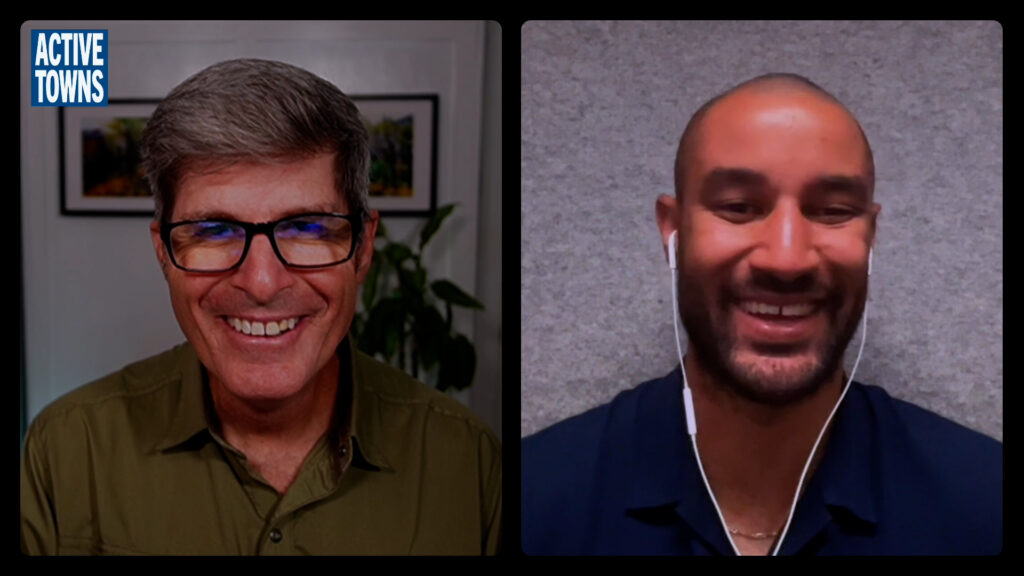 In this episode, I reconnect with former pro soccer player, Tesho Akindele, for a conversation about his unlikely and unexpected journey from pro sports to urbanism and developing, walkable and bike-friendly communities in Charlotte, NC.
I first met Tesho at the annual Congress for the New Urbanism gathering in Charlotte and immediately knew I needed to have him on the Channel to chat about his advocacy efforts in the YIMBY and Legalize Housing movements. He also shares how the book Walkable City by Jeff Speck was instrumental in influencing his passion for urbanism.
Be sure to pick up a copy of the brand new 10th Anniversary version of Walkable City with 100 pages of bonus material; see links below.
Tesho describes his time in college at the Colorado School of Mines: "I didn't have a car, I had my 'Escalegs' as I liked to call them, I walked everywhere…"
Thank you so much for tuning in! If you enjoyed this episode, please share it with a friend and be sure to subscribe to the Podcast on your preferred listening platform. Also, don't forget to check out and subscribe to the Active Towns Channel on YouTube for more content.
Helpful Links (note that some may include affiliate links to help me support the channel):
– Camp North End
– Orlando YIMBY group
– Craig Ustler "Mr. Downtown Orlando"
– CNU – Congress for the New Urbanism
– Walkable City book by Jeff Speck in the Active Towns Bookshop and on Amazon
– Episode 121 w/ Jeff Speck
– Strong Towns
– Reinventing the Front Porch Video Part 1
– Reinventing the Front Porch Video Part 2
– CNU Charlotte Playlist of videos
If you are a fan of the Active Towns Podcast, please consider supporting the effort as an Active Towns Ambassador in the following ways:
1. Join our Patreon community. Contributions start at just $1 per month
(Note: Patron benefits include early, ad-free access to content and a 15% discount in the Active Towns Merch Store)
2. If you enjoyed this episode, you can also "leave a tip" through "Buy Me a Coffee"
3. Pick up some Active Towns #StreetsAreForPeople Merch at my store
Credits:
– Video and audio production by John Simmerman
– Music via Epidemic Sound
Resources used during the production of this video:
– My recording platform is Ecamm Live
– Editing software Adobe Creative Cloud Suite
– Equipment: Contact me for a complete list
For more information about the Active Towns effort or to follow along, please visit our links below:
– Active Towns Website
– Active Towns on Twitter
– Periodic e-Newsletter
Background:
Hi Everyone! My name is John Simmerman, and I'm a health promotion and public health professional with over 30 years of experience. Over the years, my area of concentration has evolved into a specialization in how the built environment influences human behavior related to active living and especially active mobility.
Since 2010,  I've been exploring, documenting, and profiling established, emerging, and aspiring Active Towns wherever they might be while striving to produce high-quality multimedia content to help inspire the creation of more safe and inviting, environments that promote a "Culture of Activity" for "All Ages & Abilities."
The Active Towns Channel features my original video content and reflections, including a selection of podcast episodes and short films profiling the positive and inspiring efforts happening around the world as I am able to experience and document them.
Thanks once again for tuning in! I hope you find this content helpful and insightful.
Creative Commons License: Attributions, Non-Commercial, No Derivatives, 2023